L'Orion est un mod avec atomiseur reconstructible intégré. Il est donc possible de fabriquer un atomiseur selon son goût ; compromis entre hit et volume de vapeur/saveur/autonomie de l'accumulateur.
Dans cette section :
1/ Montage classique
2/Montage Genesis
3/Dual Coil torsadé
The Orion is a mod with an integrated rebuildable atomizer. It's then possible to set your atomizer accordingly to your taste : a compromise between hit and volume of vapor/flavour/battery autonomy.
In this section:
Le montage "classique"

avec de la mèche type en fibres

:

The classic setup

with a fiber wick : mono & dual-coil
Dans cette vidéo Pailpoe montre comment faire un montage classique grâce à de la mèche type Cetin/Tai Pan. Attention, toutes les indications données ont leur importance (essayez de faire rentrer la mêche dans le trou sans l'avoir lubrifiée...). La résistance réalisée comme telle est une excellente base. Une fois le montage maîtrisé il est possible de procéder à des ajustements en fonction de ses goûts. En ce qui me concerne, je préfère réaliser ma résistance en mono-coil avec 4 tours de fil résistif uniquement. Le dual-coil n'est, pour moi, pas la solution. En effet, l'autonomie de l'accumulateur est grandement affectée, la réalisation est tout de même sensiblement plus laborieuse et dernier détail qui a son importance, le remplissage de liquide une fois la cuve vide est malaisé et risque d'endommager la mêche (avec l'aiguille de la seringue dans le trou d'alimentation).
In this video, Pailpoe shows us how to realize a "classic" set-up with a fiber wick. Sorry for those who don't speak french. Every single detail that you can see is important (the nail when wrapping the wire around the wick, soacking the wick to help the introduction...).
Le montage "genesis" : the "genesis" setup
Ce type de montage utilise un tissu d'inox en lieu et place de la mèche de type Cetin/Tai Pan. Ce tissu est appelé mesh
(maillage ou treillis en anglais)
suivi d'un nombre. Par exemple mesh 400 ou 300. Ce dernier désigne le nombre de fil d'inox par pouce carré. Ainsi, plus le nombre est élevé plus le maillage est fin. Les deux types de mesh utilisés sont le mesh 300 et le 400. Le 300
aurait
une meilleure capillarité ainsi qu'un hit plus important et une production de vapeur très légérement supérieure. Le 400
serait néanmoins
le type de mesh à privilégier.
This type of setup uses a stainless steel mesh instead of a Cetin/Tai Pan type of wick.
Two qualities of mesh are suitable for the our use : the 300 and the 400 (this number is related to the number of stainless steel threads composing it per square inch
).
The 400 is giving the overall best performances, while the 300 will work better with liquids more viscous than the average thanks to a better capillarity.
Les avantages de l'utilisation de mesh au lieu d'une mèche :
the advantages of the genesis
-meilleure restitution des saveurs /
more flavour
-hit plus important /
bigger hit
-vapeur plus importante /
better vapour production
-meilleure capillarité /
better capillarity
Mais tout irait pour le mieux dans le meilleur des mondes s'il n'y avait pas quelques désavantages à ce montage "genesis". En effet, l'inox est conducteur d'électricité. Etonnant, non ? Le corps de l'Orion est relié à une borne de l'accumulateur ce qui n'arrange pas le problème. Néanmoins, il est possible d'augmenter fortement la résistivité du mesh en l'oxydant. Il faut également isoler le mesh du corps de l'Orion ; au moyen de d'
isolateurs
comme ceux visibles sur les photos ci-dessous.
Despite all these advantages the genesis setup can be tricky ; especially in the Orion. First problem, the stainless steel is electrically conductive. Surprising isn't it ? Second problem, the body of the Orion is connected to one pole of the battery. However, it's possible to increase greatly the electrical resistivity of the mesh by oxydizing it. It's also possible to isolate the mesh from the body of the Orion with spacers like the ones you can see on the following pictures.
PROCEDURE :
MERCI A PAILPOE POUR CE SUPERBE TUTO /

THANK YOU PAILPOE FOR THIS AWESOME TUTORIAL
Le montage Genesis (inventé par Raidy en allemagne) est le fait d'utiliser du tissu inox très fin oxydé au chalumeau pour faire la mèche.
The Genesis setup (invented by Raidy in Germany) is using an oxydized very thin stainless steel mesh instead of a fiber wick to feed the coil with liquid.
ETAPE 1 : PREPARATION DE LA MECHE
STEP 1 : PREPARATION OF THE WICK
Pour le couper, il faut utiliser une planche de bois sur laquelle vous tracer 2 lignes espacées de 25mm. Par transparence, vous verrez cette ligne qui vous servira pour couper avec un réglé et un cutter.
La taille que j'ai choisi : 25mm x 30 mm en Tissu inox de 400 (400 correspond au nombre de fils par pouce (2,54cm), donc plus le nombre est grand, plus le tissu est fin).
Cut the mesh on a wood board on which you've traced two parallel lines spaced by 25mm. By transparency, you'll see the lines. Follow them to cut the mesh with a razor knife and a ruler.
The size that I choosed : 25mm x 30 mm in 400 Stainless Steel mesh (400 is the number of threads per inch. Therefore, the higher the number is, the thiner the fabric is).
Puis on commence par faire une amorce avant de l'enrouler en le roulant entre les doigts (c'est très facile).
Start initiating the roll with your fingers.
Then roll the mesh between your fingers. It's easy to do.
Ensuite, on trouve un support pour la tenir pendant l'oxydation avant le chalumeau.
Elle est maintenant prête pour être oxydée avec un petit chalumeau de cuisine.
The mesh is now ready to be oxydized with a torch (a common lighter doesn't heat the mesh enough)
A répéter 3 fois :
Repeat the followings 3 times :
- Chauffe de la mèche au rouge /
Heat the mesh till it gets red
- Puis
immédiatement
, trempage de la mèche dans de l'eau (pour la refroidir violemment) /
Then immediatly immerse it into the water to cool it violently
- Puis on la pose sur du sopalin pour la sécher. /
Lay the mesh on paper towel to dry it
A répéter 2 fois :
Repeat the following 2 times :
- On mouille la mèche avec du liquide puis on allume avec un briquet /
Soak the mesh with e-liquid and ignite it with a lighter.
La mèche est prête à être montée (elle est maintenant de couleur noire).
The mesh is now ready to be wrapped by the heating wire. It's coulour is now black
ETAPE 2 : MISE EN PLACE, REALISATION DE LA RESISTANCE, TRUCS ET ASTUCES :
STEP 2 : SETTING UP, MAKING THE RESISTANCE, TIPS AND TRICKS :
La mèche est isolée du corps par un tube en nylon ou des isolateurs. C'est très important.
The mesh must be isolated from the body of the Orion. It's VERY important.
LA MECHE NE DOIT PAS TOUCHER LE CORPS DE L'ORION !
THE MESH SHOULDN'T TOUCH THE BODY OF THE ORION !
Avant le mise en place du fil, mettre un axe (trombonne, forêt, tournevis) pour éviter qu'elle ne s'écrase.
Before wrapping the heating wire around the mesh insert an axis inside to avoid crushing it.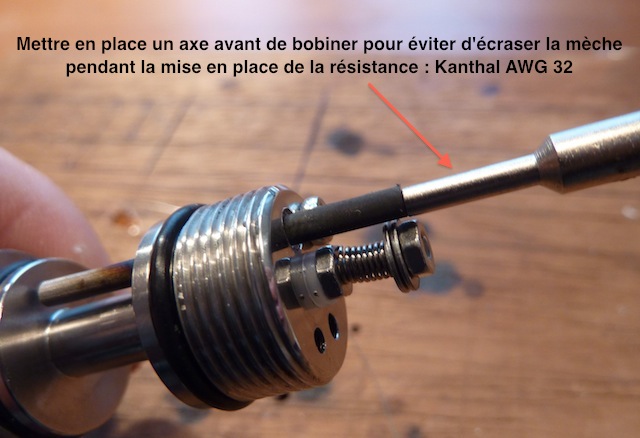 Puis mise en place de la résistance en Kanthal AWG32 (0,2mm de diamètre). Veuillez à bien limiter les portions de fil non enroulées.
On fait ici 4,25 tours ce qui donne 1,5 ohm environ.
C'est très important car, au contraire du fil qui est enroulé et qui est très bien refroidi par la mèche, ces bouts sont en l'air et vu la puissance, chauffent très rapidement.
Wrapping the heating wire Kanthal AWG 32 (diam. 0,2mm) around the mesh.
Here is a coil of 4,25 turns wich gives approx. 1,5 ohm
Take good care of letting as little as possible the parts of the heating wire non wrapped around the mesh. It's very important because unless the part that is wrapped around the mesh and wich is well cooled by it, the unwrapped sections are OVERheating quickly. It may result in a burnt taste.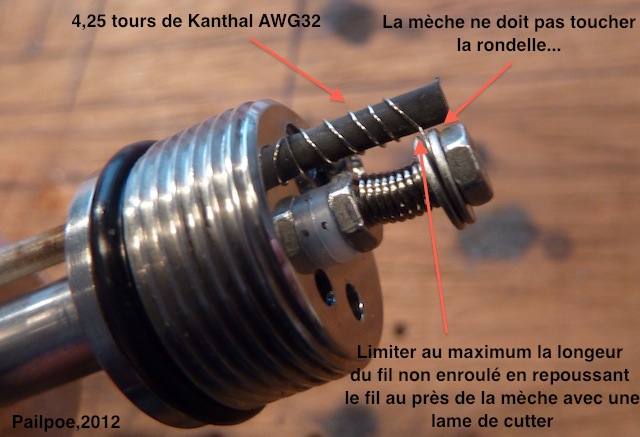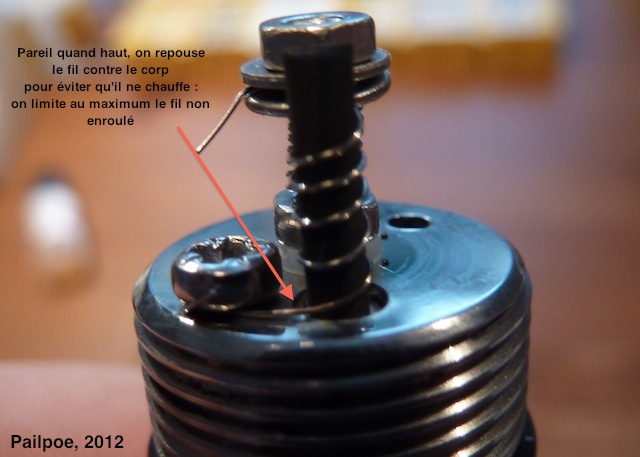 Le montage dual-coil torsadé :

Twisted wire dual coil :
Il s'agit de torsader sur lui-même le fil résistif avant de l'enrouler sur la mèche. On obtient donc un dual-coil, mais avec l'alimentation en liquide d'une seule mèche. L'avantage du dual-coil est d'avoir une surface de chauffe plus importante en employant deux résistances montées en parallèle. La production de vapeur est augmentée ainsi que la saveur. L'accumulateur est en revanche beaucoup plus sollicité qu'avec un mono-coil. Comme une photo vaut parfois mieux que de longs discours :